This article contains affiliate links
Learn some items and fixtures that will help spruce up your guest bathroom for your family and friends to enjoy. After all, the kids may be grown and have left the nest. You now find yourself with the luxury of having an extra bedroom and bathroom, so why not have the essential necessities in it for your loved ones when they visit.
You desire for your children, relatives, and friends to feel comfortable when they come to town. After all, they are away from the comfort of their home for an extended amount of time. You may have just remodeled your guest bathroom, but you want the space to be functional and beautiful for your out-of-town guest.
You just may have a good sense of what you desire to do with that extra bathroom, but there are so many ideas that you can use to make it feel like a home-away-from-home. Wouldn't it be wonderful to make your guests feel like they're relaxing in one of those beautiful luxury hotel bathrooms?
Find The Best essentials For Your Guest Bathroom



Make sure to incorporate items like the perfect shower head, house plant, shower accessories, proper lighting, elegant towels, a mirror, a comfortable robe, and any other items that you would enjoy in a bathroom if you were the guest.
Below are six tips to help decide the type and quality of items that would be on the guest bathroom list, if you were decorating your guest bathroom.
1. How to find the best Showerhead?
There are a variety of types of ways to get a bathroom comfortable and suitable for a guest.
Simply
changing your showerhead can have dramatic results and bring so much comfort to your guest.
Showerheads can be purchased for their appearance and the helpful functions that they are able to perform. The right luxury showerhead can help your guest to have a spa-like experience in the comforts of your home. The relaxation of the right water pressure along with some beautiful bathroom decor can add so much value to something as simple as taking a shower.
So, it's up to you to research and find the type of showerhead you desire to install in the restroom for the comfort of your guest.
Before we discuss the type of showerhead, we will talk about the various styles of mounts used for showerheads.
For instance, some examples of showerhead mounts are:
Wall Mount: This is the most common type of mount that comes out of the wall above the faucet. It is cheap and easy to maintain; therefore it's good if you are on a budget.
Ceiling Mount: Requires special plumbing, because it is located in the ceiling.
Bar Mount: This is a mixture of both.
You can choose from a variety of types of showerheads


What are some showerhead options?
Standard Fixed: The neck of the showerhead doesn't move. Most bathrooms come with the standard fixed showerhead.
Rainfall: covers a large area and has softer water pressure.
Handheld: can be held in the hand to rinse specific areas of the body. It's a cost-effective choice. Most have multiple settings and are great for seated showering.
High Pressure: Used if you prefer a stronger pressure while bathing.
Dual Shower Head: It has a fixed and handheld head that gives you versatility. Great for seated showering.
Filtered shower heads: They are great for filtering out unwanted chemicals and hard water, but you have to replace the filters. It reduces skin irritants like chlorine.
2. What are the best bathroom Accessories?
You can't go wrong leaving a container containing some basic bathroom essentials to help make your guest more comfortable. We have all been in a hurry and forgotten a few items before. So be prepared to make your guest time at your home a little less stressful by providing some travel-sized toiletries in a basket for their pleasure.
Travel-sized toiletries and shower accessories

What are some toiletries and accessories for the bathroom:
Some cute glass jars or containers containing Qtips and cotton balls.

Travel-sized Toothbrush and

Toothpaste
Enclosed individual Toothbrush Holder
Exfoliating Brush
Shampoo and Conditioner
Shower gel and Lotion
Razor
etc.
A lot of these items can be purchased at the Dollar tree or somewhere for a reasonable price.
3. How Do I Choose The Right Light For My Bathroom?
The bathroom may be one of the smallest rooms in the house. You want it to have a spa-like atmosphere. Try placing some scented, decorative candles around the house. It is one place where you want to have great lighting.
Who wants to spend their time in a dark and depressing room?
Cute light fixtures for the bathroom
Make sure to have some cute light fixtures in the bathroom to bring in a well-lit, elegant touch.
The right lighting can change the way the bathroom:
What are some types of lighting?
Ambient lighting: Use for general lighting. An example is wall sconces.
Task lighting: A light you need to perform tasks. It eliminates whatever you are working on like shaving, putting on makeup, or contacts. An example is vanity lights.
Accent lighting: Highlight architectural features. It can draw attention away from other areas that are not great to look at. An example is candlelight, wall sconce, and recessed lighting.
What are some location ratings for light fixtures?
Dry rated: For indoor spaces not exposed to condensation.
Damp-rated: Humid conditions. Can withstand most areas of the restroom
Wet rated: Can withstand direct contact with water. Waterproof seels to protect the internal parts.
4. Bathrobe
Take
your visitors' experience to the next level by investing in a couple of luxurious bathrobes that can be worn after a nice warm shower. Hang the robe near the shower for your guests' convenience.
You may not be operating a 5-star hotel, but you may help your guests enjoy all the features and luxury of one by making them feel like they are living an extravagant lifestyle. There aren't many circumstances more relaxing than sliding into an elegant, comfortable bathrobe to pamper your guest while they're getting ready, or after the end of a long day.
How to choose a bathrobe?
If the purpose of the bathrobe is to dry off after a bath or shower, then some great options are: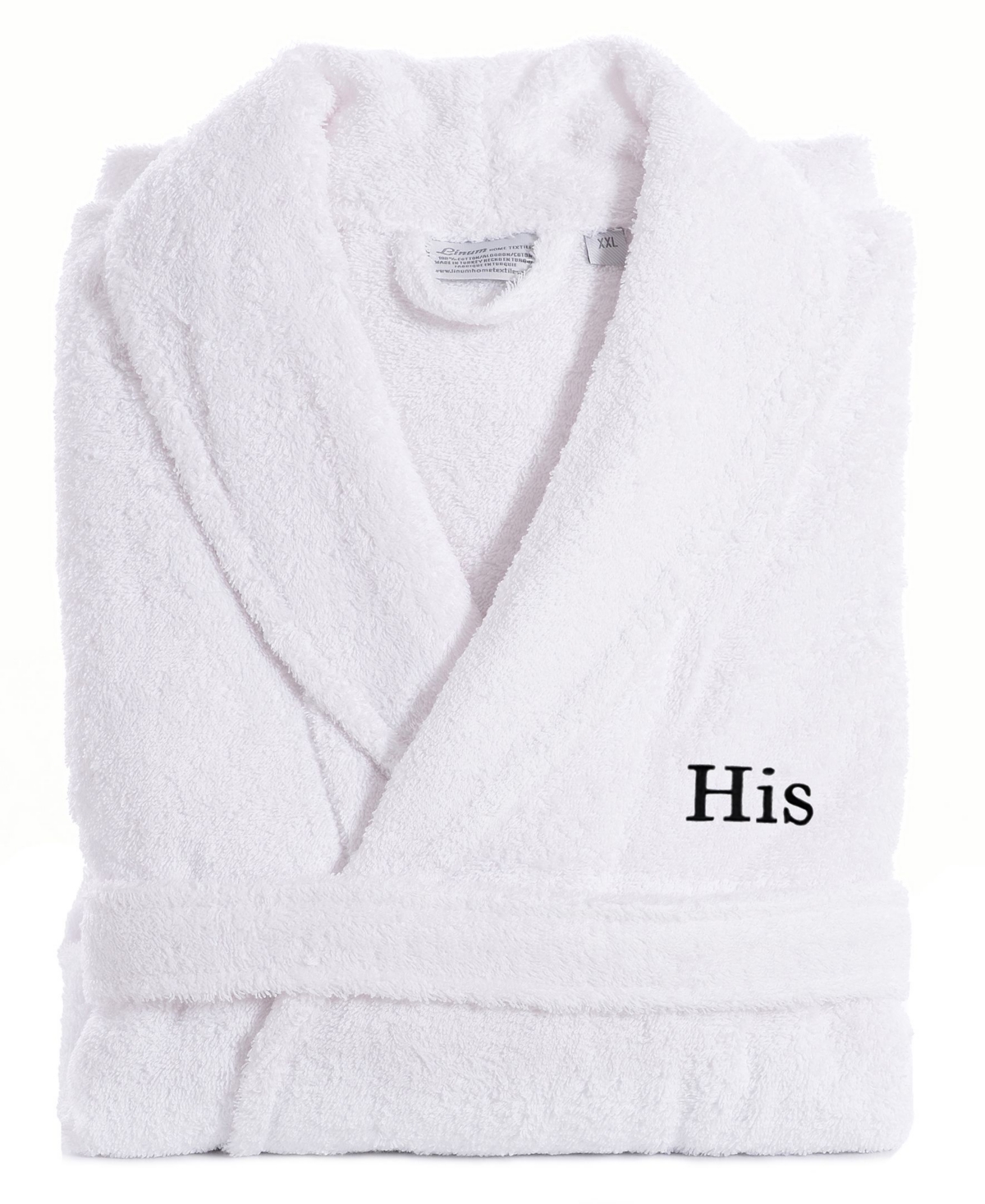 Enjoy a cozy robe after a warm shower
On the other hand, if you're looking for something to keep you warm, try:
Robes meant for relaxing are often made from materials such as silk, satin, and jersey knit fabric.
Shop the Look in this Round-up of Robes
5. Towels
Wouldn't it be embarrassing to let a guess dry off with a worn-out towel?
Make certain the towels are fluffy, clean, and not old and raggedy. It will look magnificent if your
new luxury towels, hand towels, and washcloths match each other and coordinate with the bathroom. After all, you desire your visitors to feel comfortable and know that you care about them.
Fold some towels in a charming and elegant way for the decoration of the bathroom.
Check out these Bathroom Decorative Towel folding ideas on the video below.
Your guests would love to have a magnifying mirror in the guest bathroom.
What are the benefits of a magnifying mirror in the bathroom? It helps when:
🗹 applying some fine makeup details
🗹 plucking eyebrows
🗹
taking out contact lenses
🗹
or freshening up.
Now, you have some great ideas for some essentials for your guest bathroom, but you should also make sure to keep everything wiped down and clean in the whole house. You want to protect your guest that may have allergies and are very sensitive to the least amount of dust in the house.
Be sure to
make your guests feel comfortable and welcome.
Have an awesome and wonderful day enjoying your friend and family with a fully stocked guest bathroom. Check out a variety of types of roofs for houses as well. Don't forget to join our email list to see more of our articles.
Author:
Arica Green (Arica G) is Founder and Editor of
Inveigle Magazine.
She created a premiere Lifestyle, Fashion, and Beauty Magazine
to entice you towards positive change and increase the quality of life. With Arica's love for writing and informing the Universe about a variety of topics, Inveigle Magazine was born.
Want to view more content like this?
Follow us on
Twitter. You definitely
don't want to miss any of our
lifestyles and educational articles, so sign
up
now for updates straight to
your email to let you know another intriguing article
has landed on Inveigle magazine's website for your