About WP Engine
WP Engine And StudioPress
This article has affiliate links that help to support the cost of bringing you great content and products at no additional cost to you.
Are you looking for a WordPress hosting service?
WP Engine and StudioPress can assist you in moving your business forward by helping you build a phenomenal website experience. If you want to take a hands-off approach to website management, then one of the best Managed WordPress hosting services is WP Engine.
How Does WP Engine Help WordPress Sites?
You may be wondering how can WP Engine help WordPress sites and will it benefit your site.
WordPress is a great Content management system for running a content-driven business, and it is an effective platform for creating practically any kind of website.
A website will only be as productive as the hosting provider you select. In other words, try to choose a web host that is knowledgeable about all the ins and outs of WordPress.
Here are some things to consider when choosing a WordPress Hosting service:
Speed and Performance:
Make sure any provider you choose is optimized for speed.

Check into how much storage is used.

How much memory is allocated to each website?

How much bandwidth is obtainable for traffic
Security:
You want to protect your data and your customer's information from being breached by having a firewall, dedicated hosting environments, monitoring for malicious plugins, and automated backups.
Developer tools:
You may ask,
Is WordPress Hosting required to Run Your WordPress Site?
You do not need a WordPress-specific host to run your WordPress site but managed WordPress hosting does deliver some benefits if you're preparing to build your business site, e-commerce, or blog using the platform.
Not everyone has the expertise or time to manage the infrastructure to support WordPress. That's where WP Engine comes in to help. It's a good fit for people who want to have a more hands-off approach to managing Webhosting. That in turn, leaves them more time to handle other business activities.
WP Engine is geared towards

WordPress sites and

has great benefits like:
Outstanding uptime,

High-performance hosting environment,

Security: for instance, time threat detection,

Multiple premium features.

Daily backups

Free SSL certificate: A code that provides security for online communication. Keeps data private when passed between the web server and the browser.

Staging and development

CDN certificate

Technical support

Auto migration plugin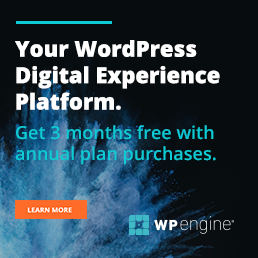 3 months free on this annual plan


How Does WP Engine Work?
WP Engine offers a fully managed service geared towards WordPress sites. It gives you the ability to concentrate on operating your company instead of being a server admin. It gives you confidence in your business to know that your site is running securely and lightning-fast as traffic volumes fluctuate.
WP Engine helps protect your site with Managed WordPress updates, scanning for vulnerability, 2FA, DDoS mitigation, automatic detection of threats, and blocking.
Leveraging both WordPress and WP Engine's one-click dev tools and flexible workflows can help improve your time to market and cost of ownership.
You can get access to the Genesis Framework and 35+ premium StudioPress themes that will provide a secure, and SEO foundation for WordPress experiences that helps to drive the company's good results.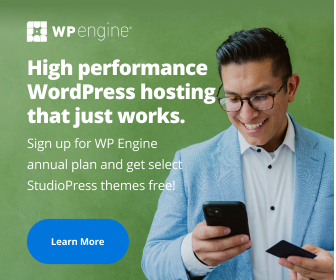 According to WP Engine,
Your developers can gain analytics to pinpoint how to increase front-end page performance and application performance; and your marketers or content publishers can gain insights on top performing content and authors.
Did you know? Power a wide variety of personalized experiences through custom functionality with access to over 50,000 plugins and a curated list of recommended plugins in the Solution Center.
There are a variety of plans to choose from to help fit your particular needs.
WordPress Hosting Plans and Features
Manage WordPress Hosting image From WP Engine page
Here is a video on how to create a website on WP Engine.
*Don't forget to look at the links above in the "
WordPress Hosting Plans and Features" section to purchase WP Engine with a discount that has been given to our readers.